The latest leap forward in LED lighting from AquaIllumination® is Hyperdrive™ HD Technology which brings more power and color where you want it, for your corals and fishes, plus the freedom to use your smartphone or computer as a controller.
This unique innovation in aquarium lighting allows you to direct power from the LED colours you have turned down to use with the colours you want to turn up, providing you with access to the maximum power output of your light, regardless of your choice of spectrum and creating the most vivid colours in your tank you have ever seen.
By coupling HD technology with custom almost optically perfect, 80 degree, colour blending lenses we can direct all of the light into the aquarium, exactly where it is needed, providing optimum PAR with minimal light loss or annoying glare for the observer.
..... Brilliantly simple and brighter than bright
Building on AquaIllumination®'s rich heritage of building world-class LEDs, the AI Hydra HD Series brings a new level of performance. At a maximum of 95 watts from the wall, it follows in the family's efficient footsteps.
The Hydra TwentySix™ HD comes standard with 80 degree lenses giving you the best balance of power and spread. Our lens optics are custom designed, boasting greater than 90% optical efficiency and including a diffuse exit surface to provide improved color blending.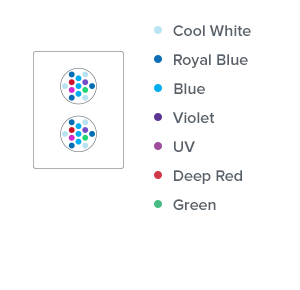 The AI Hydra TwentySix™ HD utilizes the latest LED technology from leading manufacturers, arranged to provide the best performance.
6 - Cree XP-G2 Cool White (> 70 CRI)
6 - Cree XT-E Royal Blue
6 - Cree XP-E2 Blue
2 - OSRAM OSLON Deep Red
2 - Cree XP-E2 Green
2 - SemiLED 415nm
2 - SemiLED 400nm
The beauty of AI's new HD lighting platform is that it includes Wi-Fi control as standard. Use the myAI® app on any iOS or Android device to easily set up or program one or multiple AI HD lights. Don't have a smartphone? Any Wi-Fi enabled MAC or PC will work. 
Use your iOS, Android or internet-connected device to control the Hydra HD, anywhere in the world!